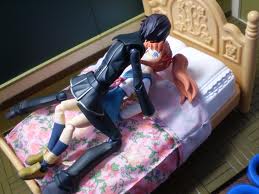 Figure Boredom is a humorous series of flashes that Pacthesis uploads to her Deviantart featuring her collection of anime figurines and occasionally a mini cardboard cut-out of Pacthesis herself. The series currently has a total of 14 episodes
The main character of the series seems to be Lelouch Lamperouge from Code Geass as he seems to appear in every episode. Other reacurring characters include Len Kagamine from Vocaloid, Kagamiku (Kagami Hiiragi from Lucky Star cosplaying as Miku Hatsune from Vocaloid) and Kyon from The Melancholy of Haruhi Suzumiya. A mini cardboard cut-out of Pacthesis herself also appeared in one episode.
Ad blocker interference detected!
Wikia is a free-to-use site that makes money from advertising. We have a modified experience for viewers using ad blockers

Wikia is not accessible if you've made further modifications. Remove the custom ad blocker rule(s) and the page will load as expected.