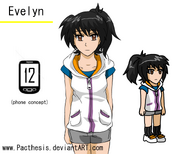 Evelyn is the main character of Number Days Sim Date. Of course she is renameable. Her number starts at 12.
Personality
Edit
Pacthesis' description of Evelyn's personality says that she is a down-to-earth person, who gives more than she takes.
Appearance
Edit
Evelyn has black hair that is in a ponytail. She has light brown eyes. She wears a blue shirt and a white jacket on top with yellow under it and purple outlines on the zipper and pockets and grey shorts. She also wears white tenis-shoes with yellow strings and black socks.