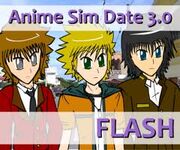 The Anime Sim Date series are four sim dates and one "fake" sim date that Pacthesis uploaded before the
Days
series began.
Anime Sim Date 0.0
Edit
Anime Sim Date 0.0 was the first sim date that Pacthesis ever uploaded. It is a simple game where you play as a high school boy trying to get a date with a girl in his class named Amy who is based on Pacthesis herself.
Anime Sim Date 1.0
Edit
Anime Sim Date 1.0 was Pacthesis' last sim date for boys. In this game you are a high school boy and you speak to three girls. You must complete several tasks and remember facts about each girl to end the game with one of them.
Anime Sim Date 2.0
Edit
Anime Sim Date 2.0 was Pacthesis' first sim date for girls. When it starts, there will be a dream with be a wishing well in front of you, and you will answer some questions to know your "soulmate". After the dream, when you go outside, you will have an encounter with a boy. The boy you will run into depends on the questions you answered in your dream.
Anime Sim Date 2.5 was the last game in this series apart from the "fake" Anime Sim Date 3.0. In this game all of the characters from Anime Sim Date 2.0 return aswell as a new, unlockable character.
Anime Sim Date 3.0
Edit
This game was never completed and is not technically part of the series. It just shows an old version of Anime Sim Date 2.5.
Ad blocker interference detected!
Wikia is a free-to-use site that makes money from advertising. We have a modified experience for viewers using ad blockers

Wikia is not accessible if you've made further modifications. Remove the custom ad blocker rule(s) and the page will load as expected.